Food Grade Soya Lecithin​​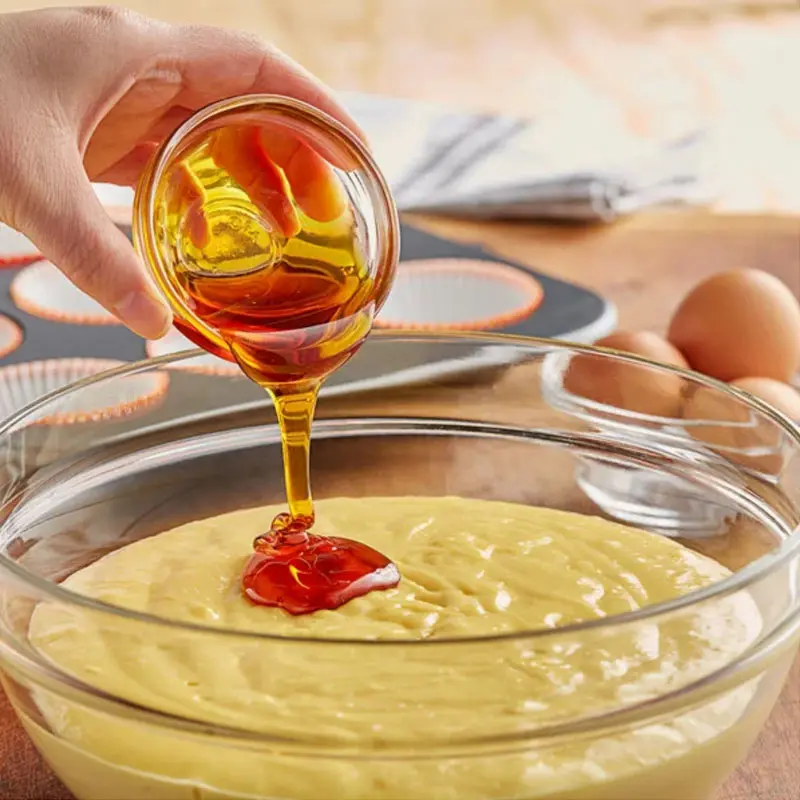 ESSEMM Food Grade Soya Lecithin​
Soya Lecithin Liquid Standard is made from Non-GMO soyabeans with characteristic golden yellow coloured viscous liquid and characteristic odour. Lecithin is a naturally occurring group of phospholipids found in nearly every living cell. It is a vital, multifunctional, active substance used in manufacturing a variety of food products, Cosmetics, Pharmaceuticals, Nutraceuticals and Healthcare among other wide ranging applications. It is used for its wide functional, Nutritional and therapeutic properties. Lecithin is natural dietary source of Essential Phospholipids viz Phosphatidyl Choline, Phosphatidyl ethanolamine, Phosphatidyl inositol & Phosphatidyl serine. These phospholipids are the building blocks of life and are vital for healthy function of every cell membrane in the body.
Soya Lecithin Liquid Standard is used in Food, Cosmetics, Pharmaceuticals, Nutraceuticals and Healthcare.
In Food Industries: Soya Lecithin Liquid Standard is used as Natural Emulsifier, Wetting agent, Dispersing agent, Stabilizing agent, Viscosity Reducing Agent, Anti-spattering agent, Mixing & Blending agent, Release agent, Conditioning, Lipotropic, Surface active agent and as an Emollient and Antioxidant as well. Recommend dosage is given below :
| Products | Dosage |
| --- | --- |
| RChocolate, Cocoa, Margarine | 0.2 – 0.5% |
| Milk Powder | 0.5 – 3.0% |
| Ice Creams & Shortenings | 0.1 – 0.5% |
| Icing & Fillings | 0.2 – 1.0% |
| Caramel Corn | 0.05 – 0.30% |
| Flavour / Colour Incorporation | 1% of Fat |
| Infant Formulas | 3.5% of Fat |
| 3.5% of Fat | 5 – 15% |
| (Oil Based ) | 25 – 30% (Water based) |
| Specifications | Range |
| --- | --- |
| Appearance | Semi Liquid Viscous Syrup |
| Colour | 10-12 Max on Gardner scale |
| Moisture | Max 1.0% |
| Acid Value | Max 30 KOH/g |
| Peroxide Value | Max 5.0 m.eq |
| Hexane Insoluble | Max 0.30% |
| Acetone Insoluble | Min 62% |
| Viscosity | Max 120 Poise |
In Cosmetic Industries: Lecithin adds to Suppleness, Penetration, Lather Stability, Better Distribution, Skin protection and care. It is a good antioxidant. it's chelating ability enables it to combat, complex heavy metals. Lecithin increases respiration capacity of the skin. Usage level is 0.5% to 2.0%. Lecithin being surface active agents, lower surface and inter facial tensions and increase the tendency of their solutions to spread. Cell membrane consists of a lipoprotein whose lipid fraction consists mainly of lecithin. Lecithin increases the rate of respiration of the skin, regulates the exchange of cell material and has a effect on the pH value of the acid sheath of the skin. Accordingly it protects the skin against a too severe extractions of the lipids. The high content of essential fatty acids – about 75% of its fatty acids and linoleic or linolenic acid is important in the treatment of skin diseases and eczema.
In Pharmaceuticals & Healthcare Industries: Lecithin is natural dietary source of Essential Phospholipids. Lecithin provides prophylaxis against cardiac disorders, arteriosclerosis & help maintain a healthy heart and cardiovascular system. Lecithin and its components provide nutritional support to brain functions. They boosts capacity to work, memory, counteract depression, dementia & protect brain cells from decay. In Liver, lecithin metabolizes clogging fat and reduce the chance of liver degeneration. In the intestinal tract, lecithin helps the absorption of vitamins A and D.
Packing & Storage: 200 kg Food Lacquer Coated MS/HDPE Drums / IMT IBC / ISO Tanks / Flexi Tanks. .
Storage & Shelf Life: 18 months from the date of manufacturing when stored in unopened original packing below 25 o C Should be kept in cool & dry conditions. Avoid exposure to Moisture, heat & light..